S2CDT Series - Type 4, 4X Mild Steel and Stainless Steel Terminal
Modular Console Systems
Product Application:
Ideal as a housing for a complete personal computer system including video screen, keyboard and PLC.
Flexible design provides panel mount or rack mount capabilities for a variety of applications.
Generally used in combination with other modular console components (i.e. base or pedestal). Mounting on base provides extra room for PLC's and/or printer-paper stands.
Optional casters (require plinth) allow for a completely mobile, NEMA rated work station.
Smooth lines and clean edges provide an attractive, contemporary appearance.
Product Construction:
Formed 14 gauge steel bodies with 14 gauge steel doors.
Also offered with formed 14 gauge 304 stainless steel bodies with 14 gauge 304 stainless steel doors.
Smooth, continuously welded seams.
Body stiffeners are provided where required for increased strength and rigidity.
Offered in 24" width only.
Features solid sides and top, 2 solid doors on front (both open down), lower, smaller door for keyboard shelf, back (opens up), and open bottom.
Lower drop down door provides access to optional slide-out keyboard drawer.
Front doors feature sliding rod mechanism which allows a 102° opening when in the lowered position.
Rear door features manual, 3 position adjustable door stop which provides convenient support while door in open position.
Formed lip on enclosure excludes flowing liquids and contaminants.
Slotted quarter turn oil-tight latches secure the door, with optional tamper resistant and locking latches available.
Stainless steel models utilize stainless steel hardware.
Oil resistant gaskets are permanently secured.
Features several internal stud locations for mounting of various accessories.
A bonding screws is provided on the door and a grounding stud is provided in the enclosure.
Product Finish:
Available in RAL 7035 light grey textured powder coating and natural stainless steel with a smooth, brushed finish.
24" Front Window Door available in same finishes.
Product Standards:
UL 508A Type 3R, 4, 12 (Stainless Steel, add 4X).
CSA Type 3R, 4, 12, 13 (Stainless Steel, add 4X).
EIA RS-310-E.
Complies with:

NEMA Type 3R, 4, 12 (Stainless Steel, add 4X).
IEC 60529, IP66.
How To Order
Hammond Manufacturing Electrical Enclosures
Customisation Options
Share This Product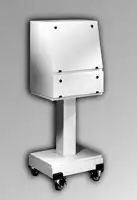 Part No
Product Information
1+
10+
25+
50+
More
2CLD24R
Please Click Link For More Information
P.O.A.
P.O.A.
P.O.A.
P.O.A.
More....
2CSD24R
Please Click Link For More Information
P.O.A.
P.O.A.
P.O.A.
P.O.A.
More....

For pricing confirmation and stock availability please contact us
Modified Electronic Enclosures
Almost every enclosure will need some kind of modification to be useful. In house modifications can be tedious, over complicated and a distraction from your main core business. A third party shop can add time and expense. Let us help you to deliver quality products made to your exact specifications.
Why choose Hammond Manufacturing to modify your enclosure
Hammond Manufacturing offers a wide selection and massive inventory of enclosures ready to be modified.
Typically the minimum order quantity is 25 pieces. This can vary depending on product and service required. Please note KGA Enclosures does not add on any charges.
Hammond has an experience enclosure modification team and two dedicated modification facilities in North America and the United Kingdom. They are knowledgeable, available and capable.
Hammond Manufacturing helps eliminate scrap and design errors with approval drawings to confirm correct interpretation of your deign required. Many orders will also include a fast delivery of sample enclosures for your inspection. These steps ensure that your assembly fits perfectly before heading into the mass production stage.
Popular modification services offered:
Holes
Cutouts
Tapping and countersinking.
Pressed-in hardware (Studs, Standoffs)
Silk screening
UV Printing
Special colours
Special length extrusions
Pre-Installed accessories
Available services vary by product