PWS-35 Series - 21000-34000 BTU/H Air/Water Heat Exchanger
Type 3R, 4, 4X
Product Description:
Designed to use various water sources to cool enclosures where ambient conditions involve high temperatures, harsh conditions or are subject to frequent wash-down.
Product Features:
Compatible with chilled water/glycol, tower water and other circulated coolants.
Integrated thermostat and solenoid value with alarm contact provides automatic temperature control.
Rugged (10 bar) copper tube/aluminium fin heat exchanger with 1/2" barb connection.
Side, door or internal mounting provides complete installation flexibility.
Low noise, maintenance-free design.
Exterior case, galvanized steel construction finish RAL 7035 light grey or 304 stainless steel.
Product Standards:
UL, cUE and CE.
Complies with:
How To Order
Hammond Manufacturing Electrical Enclosures
Customisation Options
Share This Product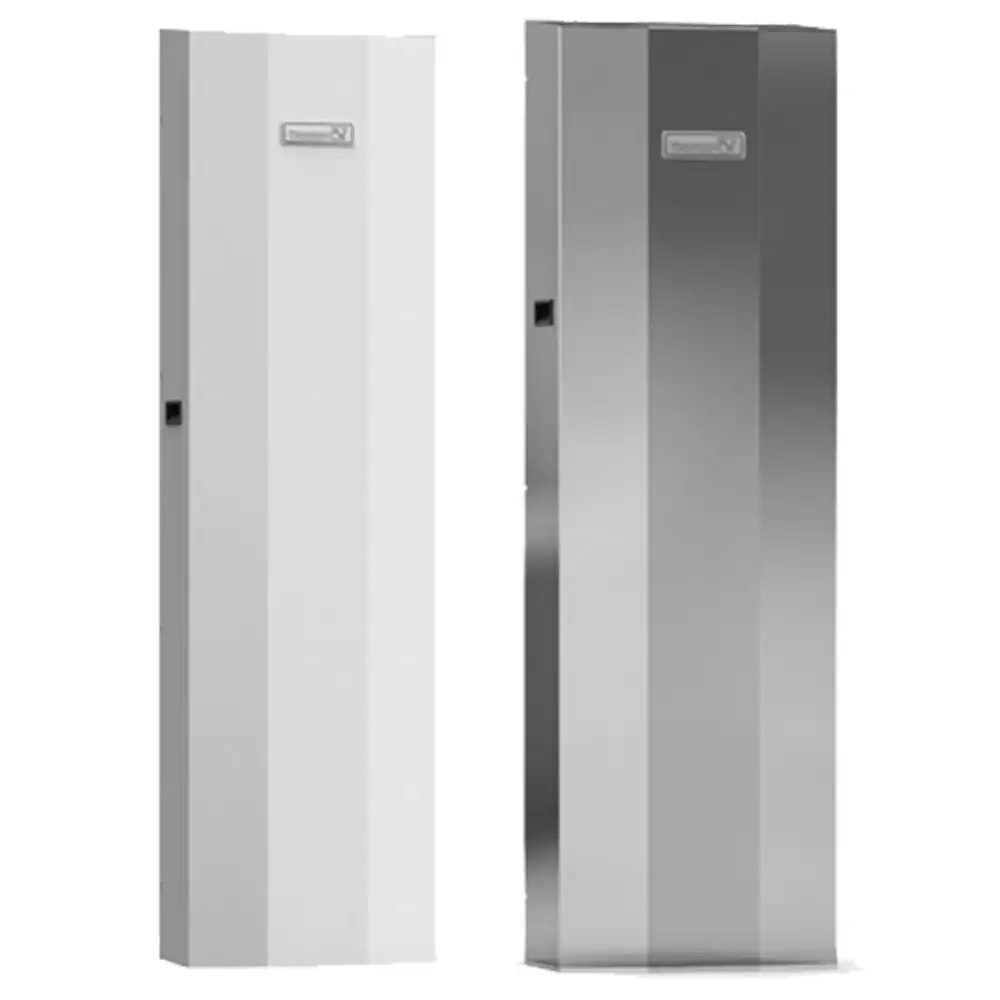 Modified Electronic Enclosures
Almost every enclosure will need some kind of modification to be useful. In house modifications can be tedious, over complicated and a distraction from your main core business. A third party shop can add time and expense. Let us help you to deliver quality products made to your exact specifications.
Why choose Hammond Manufacturing to modify your enclosure
Hammond Manufacturing offers a wide selection and massive inventory of enclosures ready to be modified.
Typically the minimum order quantity is 25 pieces. This can vary depending on product and service required. Please note KGA Enclosures does not add on any charges.
Hammond has an experience enclosure modification team and two dedicated modification facilities in North America and the United Kingdom. They are knowledgeable, available and capable.
Hammond Manufacturing helps eliminate scrap and design errors with approval drawings to confirm correct interpretation of your deign required. Many orders will also include a fast delivery of sample enclosures for your inspection. These steps ensure that your assembly fits perfectly before heading into the mass production stage.
Popular modification services offered:
Holes
Cutouts
Tapping and countersinking.
Pressed-in hardware (Studs, Standoffs)
Silk screening
UV Printing
Special colours
Special length extrusions
Pre-Installed accessories
Available services vary by product